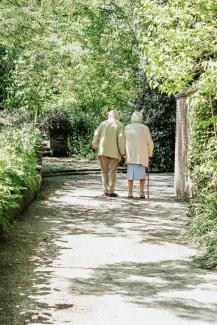 Financial Exploitation of Older Adults: Prevention Checklist
According to the FBI, older adult abuse and exploitation are both defined as any intentional act(s) by a caregiver or another person in a relationship of trust that causes harm or distress to older adults, age 60 and older. Identifying financial exploitation of older adults may be difficult. Older adults may be reluctant to say anything about what is happening to them out of embarrassment and shame, fear of reprisal, dependency on the perpetrator of the offense, or fear of further straining a family relationship. Family members or close friends may be unaware of the situation, or they may be the individuals committing the financial exploitation.
Financial exploitation can range from stealing someone's Social Security check to forging financial documents or misappropriating cash, jewelry, and other assets. Financial fraud costs older adults at least $36 billion annually, according to the National Council on Aging.
Use the checklist below to raise awareness and educate community members about financial exploitation of older adults. The checklist includes multiple red flags; however, just because one of these red flags may exist, that doesn't necessarily mean the individual is being exploited, but the possibility should be considered and monitored. When in doubt, err on the side of caution and report the activity using the resources at the end of this document.
Checklist:
The inclusion of additional names on an older adult's bank signature card
Sudden changes in bank accounts or banking practices, including an unexplained withdrawal of large sums of money by a person accompanying the older adult
Unauthorized withdrawal of the older adult's funds using their ATM card
Provision of substandard care or bills left unpaid despite the availability of adequate financial resources
Someone providing unnecessary services
Discovery of a forged signature for financial transactions or for the titles of the older adult's possessions
New 'friends' or helpers attempting to isolate an older, vulnerable adult or limit contact with relatives or old friends. Many schemers are initially incredibly helpful.
Cognitive decline or loss of financial acumen
Sudden changes to legal or financial documents, or suddenly missing documents including wills, estate documents, insurance policies, retirement accounts, etc.
Suddenly changing or turning off cell phone numbers or email addresses, another person answering their phone or oddly worded texts or email responses. This may indicate that someone has access to them and is "managing" communications.
Giving away money, transferring assets to people, unusual spending behavior, checks being written to cash or the unexplained disappearance of cash or property
Sudden increase in "bounced" checks and overdraft fees
Older adult appears confused about the account balance or transactions on his or her account
Caregiver appears to be getting paid too much or too often
Significant increases in monthly expenses paid which may indicate expenses for persons other than the older adult.
Statements are sent to an address other than the older adult's home
Refinance of the older adult's property, particularly with significant cash out or with the addition of new owners on the deed and, most particularly, without the new owners shown as co-borrowers on the loan
Older adult acknowledges providing personal and account information to a solicitor via the phone or email
Excitement about winning a sweepstakes or lottery
Protect and Prevent
If you or someone you know is being financially exploited, tell someone you trust, report it to Adult Protective Services in your state and notify your local police department for help. You can also contact the U.S. Justice Department's National Elder Fraud Hotline at 833-372-8 311.
In addition to the above checklist, please ensure your loved ones:
Don't allow unknown individuals into the home
Don't have work done on their home without getting written estimates from at least three reputable contractors
Don't give out their Social Security, credit card, or bank account numbers over phone or email