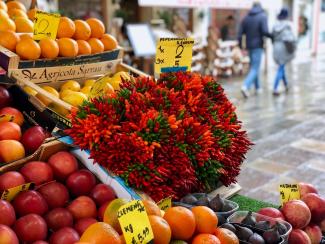 Inflation Is Running Hot. What It Means for the Stock Market
April's inflation data 
was released today
—and it's running very hot. That's no surprise despite people acting shocked by the rise in prices.
Inflation worries have been on the rise recently, with the prices of everything from food to cars to gasoline increasing. April's consumer-price index, which rose 4.2% year over year, is unlikely to assuage those concerns.
A little bit of inflation is a good thing, a sign that the economy is operating properly. High inflation, though, eats into savings and sucks the energy out of the economy. It also forces central bankers to 
raise interest rates
, which slows the economy and causes stock valuations to fall. That's why the Federal Reserve wants to keep inflation running at around 2%—not too hot and not too cold.
Wednesday's inflation rate doubled that level year over year. It can safely be ignored, however, because the economy was falling apart in April 2020 because of Covid-19 lockdowns.
The month-over-month change is another story. It rose 0.9% from March to April, excluding food and energy—economists like to assume people don't drive or eat—beating forecasts for 0.2%.
The 
S&P 500
 slumped 0.8% on the news, but even a number this strong is unlikely to change the Fed's plans, at least not in the short term.
No matter what the market wants.
—Al Root