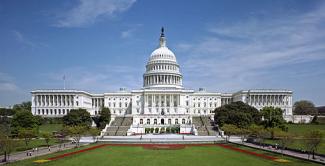 Stocks Keep On Rising. Why the Market Doesn't Care About Washington Chaos
Jan. 6 was a dark day in American history. On a day that should have been devoted to the task of counting the electoral votes, Congress was evacuated as rioters raided the Capitol building. And the stock market doesn't care.
After rising on Wednesday to a record, Dow Jones Industrial Average futures are looking at a higher open Thursday, with futures up 0.5%.
Sometimes people believe that stock prices should reflect everything they see and feel. That is not the case. The stock market cares mainly about money, especially now that the situation in Washington has returned to something resembling normal.
Bleakley Advisory's Peter Boockvar summed it up well in a Wednesday note to clients: "There should be no mystery as to why the markets didn't care about what happened in the [Capitol] yesterday, however disturbing, disgraceful, and embarrassing it was," he wrote. "It's because it has no bearing on the direction of the economy, earnings, and interest rates. It's that simple."
The Senate runoff election in Georgia was a far bigger deal, not because it's making a moral judgment but because of the impact it would have on the economy. Investors are betting that more stimulus will be coming, and that taxes won't go up. That would boost economic growth—and corporate earnings too.
And that's all the market really cares about.
—Al Root, Barron's