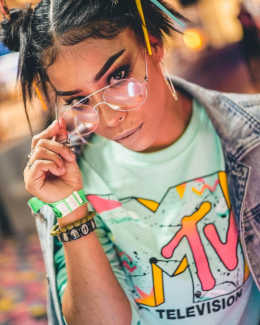 "This Year's Award Goes to The Long Term Investor"– Haverford Trust Market Commentary
MTV burst onto the airwaves 40 years ago on August 1, 1981. Haverford Trust was two years old at the time, younger than MTV's target demographic. On the first day, Rod Stewart was the featured artist with 11 different videos broadcast. The media market that MTV exploded into included Dallas, still riding the popularity of "Who Shot JR?" as the most popular TV show. Raiders of the Lost Ark was the highest grossing movie in 1981 and that franchise continues to this day. Christopher Cross had swept the 1981 Grammys, unfortunately bringing the phrase "Yacht Rock" into the public vocabulary. Undeniably, MTV proved to be a true disruptor, redefining how music was produced and consumed, eventually broadening the reach of urban and hip-hop music and setting a global stage for music and pop culture as technology evolved. We are not sure whether to credit or blame MTV for creating reality TV as we know it today, but they were the originators of the genre.
While MTV's innovative status has certainly faded, we mark the anniversary of its founding by reviewing the benefits of long-term investing in companies over the 40-year period. The broad equity market, as measured by the S&P 500 index, returned a compounded 11.97% from July 1981 to July 2021. That is close to a 1% return each month for 40 years. A dollar invested on July 31,1981 would have returned a total of $911.82 including dividend reinvestments through July 30, 20211. Despite multiple recessions, wars, financial crises and a global pandemic, the long-term investor who stayed invested is the rock star most deserving of the MTV Moon Man statue.  Maybe that should be the video that plays 11 times each day.
S&P 500 Closing Price
Source: FactSet Prices. Past performance is not a guarantee of future results. Index returns are provided for illustrative purposes only. Indices are unmanaged, do not incur fees or expenses and cannot be invested in directly. The S&P 500 Composite Stock Price Index is a capitalization-weighted index of 500 stocks intended to be a representative sample of leading companies in leading industries within the U.S. economy.
There are individual examples even more stunning. Home Depot would issue its IPO a month later in September 1981, selling 600,000 shares at $12 each to raise capital of $7.2 million. The company now has a market cap of $348 billion. Brian Roberts became a full-time employee at Comcast in 1981 when its market value was $114 million compared to $270 billion today. Steve Jobs and Bill Gates had moved out of their very creative basements by 1981 but Apple and Microsoft were still in their infancy as companies. We should not ignore stalwarts such as PepsiCo and Johnson & Johnson that have continued to create shareholder value across the decades.
As MTV debuted, the US was experiencing some of the highest interest rates in its history. The benchmark Treasury 10-year note had a yield of 14.67%, headed toward its all-time high of 15.84% two months later. When you consider long-term returns, keep in mind that note matured in 1991 and three more cycles of notes have also matured and the reinvestment this morning would only yield 1.22%. Similarly, the Consumer Price Index was dropping but still high 10.3% in 1981, down from 13.5% in 1980. The Treasury would not sell its first inflation-protected securities (TIPS) until January 1997. The Treasury was giving investors protection from something that was 16 years in the rearview mirror. Looking back and longing for high interest rates is about as productive as remembering "I Want my MTV".
We hope everyone enjoys the remainder of their summer. Please stay well, stay invested and play your favorite song from the 80's sometime this week.
[1] Bloomberg Finance LP